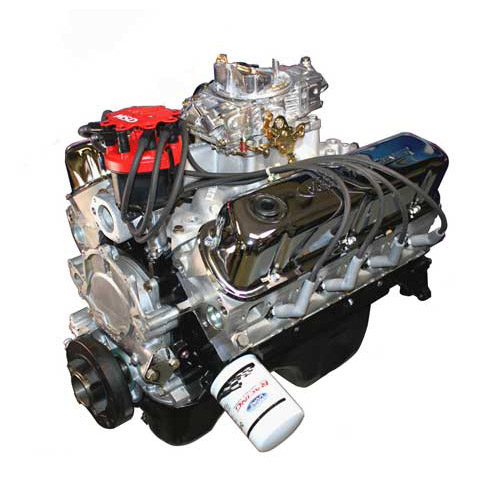 The most popular crate engine in the Ford Racing lineup is now easier than ever to drop in and be ready to run.  The new X302D – the "D" referring to dressed – comes with carb, intake, distributor and wires.  It takes the guesswork and installation issues out of the way with a complete intake and distributor package that has been developed and tested by Ford Racing Engineers.  To dress out the X302D, The Ford Racing Engineers spec'd parts from the best in the aftermarket – Holley, Edelbrock and MSD. 
X302 is a smart mix of original Ford remanufactured production block and crankshaft, Ford Racing heads and internals from some of the best Aftermarket Performance parts manufacturers.  The production 302 block is bored .030″ oversize and fitted with Mahle forged pistons.  The crankshaft is precision ground and use Eagle forged I-Beam connecting rods.  The camshaft is one of the Ford Racing classic "Alpha-Cams" – the E303 with .498″ lift working along with roller rocker arms and roller timing chain.  Ford Racing aluminum X-Heads with high swirl combustion chambers top off the engine.   Chrome Ford Racing valve covers set off the engine and will make any owner proud to open his hood.  All buttoned up and ready to go this package pumps out 340 horsepower and works in just about any classic or vintage Ford car or truck.
No other small block Ford can say that it has been developed from the ground up and tested by the people that know how to make a Ford run best – Ford Racing Engineers.  These are the same Engineers that design 500+HP Ford Racing Crate Engines, 1,000+ HP Pro Stock engines and 200+ MPH NASCAR engines.  X302D features a mix of the best OEM, Ford Racing and aftermarket parts to deliver strong street performance at an outstanding value.
X302D is the perfect carbureted replacement engine for a vintage muscle car, late model project, truck or street rod.  And unlike the imitators, no other crate engine has the Blue Oval heritage and Ford Racing Engineering and Technical support.
340 horsepower @ 5500 RPM
350 lb.ft. torque @  4200 RPM
Engine Type:  302 based small block Ford
Displacement (cu in):  306
Bore x stroke (in):  4.030 x 3.00″
Block: OEM Precision Remanufactured 5.0L
Crankshaft: Cast iron remanufactured
Connecting rods:  Eagle I-Beam
Pistons:  Mahle forged
Camshaft Ford Racing Hydraulic Roller P/N M-6250-E303
Camshaft lift (in): .498″
Camshaft Duration (@.050 in):  220 degrees
Cylinder Heads: Ford Racing aluminum, 64 cc chamber P/N M-6049-X306
Valve size (in):  1.94 intake 1.54 exhaust
Compression ratio:  9.0:1
Edelbrock Performer RPM Air Gap Manifold (PN 7521)
Holley  Street Avenger 570 CFM Carburetor with vacuum secondaries, 4-corner idle and Electric Choke (PN 83570)
Rocker arms:  Roller Rockers 1.6:1 ratio
Valve covers (p/n: M-6000-302-070): Ford Racing Chrome
Oil pan: M-6675-A50 stamped steel dual sump, fits most Fox body cars
MSD billet distributor
Recommended fuel:  Unleaded premium
Maximum recommended rpm:  5,800 RPM
Balanced: 50 in. /oz. imbalance rotating assembly (common to 1981 and newer 302's)
Engine power rating based on long tube headers, Edelbrock RPM Air Gap 7521 intake manifold w/ 570 Holley carb and Premium Unleaded pump gas
Want to repower your pony?  The Ford Racing Z363 shortblock lets you build it your way by adding your choice of heads, cam, intake and oil pan.  It's the perfect foundation to build a powerful 8.2″ deck engine for your vintage muscle car, street rod, Fox Body or Late Model Mustang.  This is the same shortblock used in the 500 HP Z363 crate engine.    By taking the bore out to 4.125-inch, the displacement of the popular 347 stroker has been increased to 363 cubic inches. Nothing but the best parts are used inside including: forged crankshaft, forged I-beam connecting rods with floating piston pins and the BOSS 302 block. The Z363 shortblock fits many of the vehicles originally built with a 289 or 302 8.2-inch deck height block. Engine type:  302 based small block ford Displacement (cu in):  363 Bore x stroke (in):  4.125″ bore x 3.400″ stroke Block: BOSS 4-bolt Main Block 302  M-6010-BOSS302 – 8.2-inch deck height . .010″ below piston to deck height (nominal) Crankshaft: SCAT Forged Steel: 3.400″ stroke Connecting rods:  SCAT forged steel I-beam connecting rods Pistons:  Mahle forged aluminum pistons, with reliefs for Z304D, Z304P, N351, GT-40 and other inline valve Windsor cylinder heads.  6 cc valve pockets. Hydraulic roller camshaft compatible Balanced: Internal Recommended cylinder head fasteners M-6065-BOSS head bolts, M-6014-BOSS studs, or M-6014-Z304 studs, depending on application Designed for M-6049-X306//X307/C3/D3/Z304DA cylinder heads, Not designed for production 302/351W or M-6049-Y302/Y303/X302/X303/X304/X305 cylinder heads Assembled and ready for your heads, cam and timing chain set Requires head gaskets M-6051-R351 Built with all new parts $4495.99
Fits
2011+ Mustang: Chassis, strut, and springs.
2005+ chassis.
Both 2005-2010 and 2011+ struts.
2011+ springs. Does not fit 2005-2010 springs, OEM or aftermarket.
Benefits
Provides camber adjustment (otherwise not adjustable).
Lowered Mustangs can be aligned to factory specifications.
Camber is adjustable without affecting caster.
Negative camber may be increased for competition.
Provides caster adjustment (otherwise not adjustable).
Caster adjustment provides correction for OEM production tolerances.
Caster and camber are easily adjusted at the top of the strut tower.
Spherical bearing mount eliminates deflection and precisely locates the strut shaft, while still allowing the articulation required for steering and suspension movement.
Improves dynamic alignment stability by eliminating stock rubber-bushed upper strut mount.
Bolts on. No drilling or cutting required.